by Victoria Neumann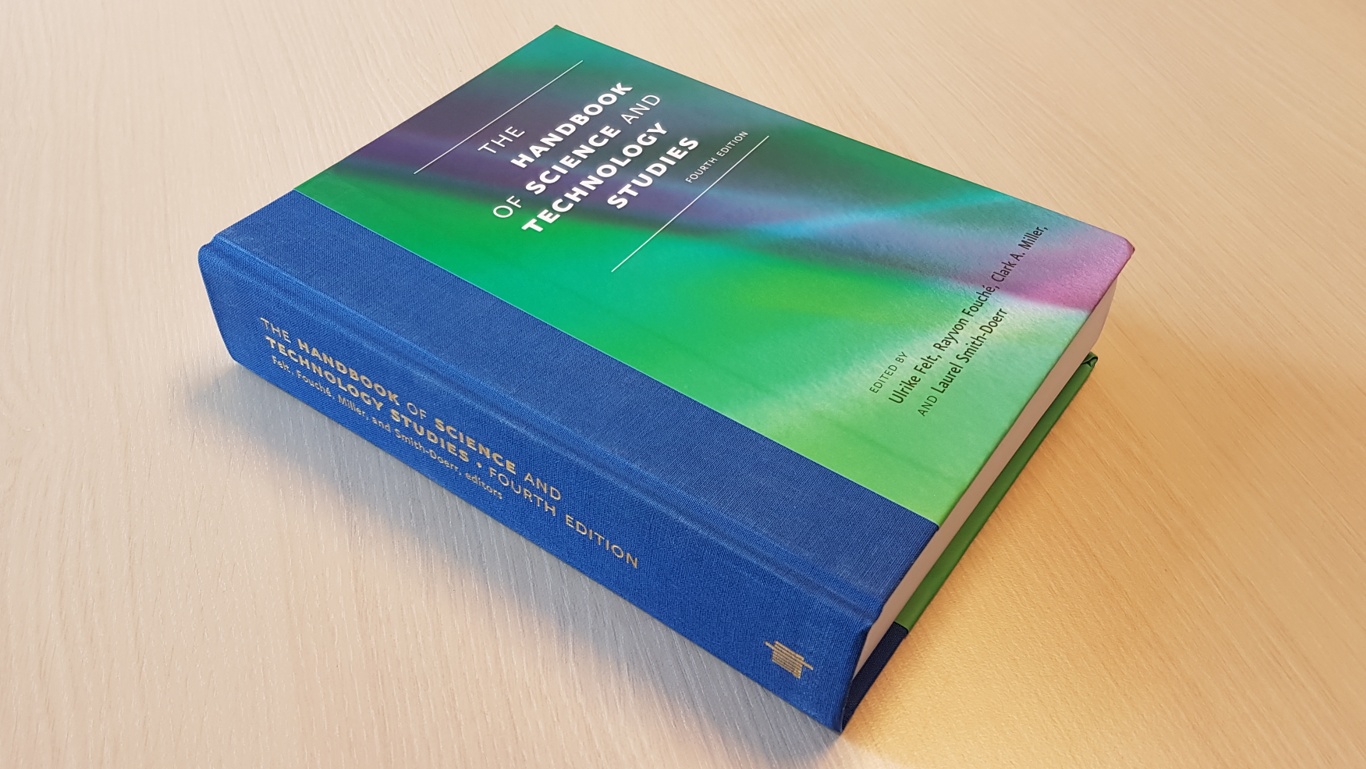 The moment is finally here: The new edition of the Handbook of Science and Technology Studies is finally finished and available. To say it in Latour's terms, the Handbook is now "ready made", but how was it in the making? How was this important representation of our discipline co-produced by the numerous authors, editors, politics and business of academic publishing and last but not least the material constrains of putting whole fields of study and their intersections into roughly 1200 pages? This post is looking back at the sometimes messy processes in the creation of the latest edition of the Handbook and the attempts to keep the mess under control. Stories from the Handbook back office. And to make it more playful and in order to advertise, I have hidden the titles of several chapters in this post. How many can you find? (Hint: the table of contents can be viewed here)
The story of the new edition of the Handbook began with an outreach, which was the call for abstracts of chapters. This bottom up approach from the STS community provided the editors with what they described in the introduction as the seeds for the landscape that this volume was about to become. In between the abstracts and the finished version many choices were made in shaping this landscape. What needs to be included (what chapters, sections, historical approaches and strands of research)? How much can be included (e.g., chapter lengths, images, bibliographic references)? Thinking of STS as a transdisciplinary environment of research, those choices made an effort to open up the field rather than limiting it. Of course, environmental justice to such a large field is nearly impossible while balancing limited resources — time, space in the future book, money — at hand, and the aim of making the topics comprehensible for the imagined future readers, for instance. However, structural inequality still persists, in a sense of still lacking non-Euro-American authors and arguably certain less mainstream perspectives. The editors reflect on this issue in their introduction.
My work for the Handbook began when the first full drafts of the chapters arrived, and we started the initial revision process. Finding and getting peer reviewers for each chapter was a long process. Fellow scholars do reviews without being paid, and often in their spare time on top of their work. Consequently (and very understandable), many people who we asked for, politely declined. For us, this meant we had to ask around 3-4 times more persons to comment in order to achieve our aim of around 3 reviewers per chapter.
After the reviewers, it was up to the editors to rethink the documents we received, the draft chapters and their respective reviews, in order to develop the STS Handbook. This included cropping, shortening and reformulating content in a sensible and sensitive way. This was often about politics, as a Handbook chapter also tells a story on the development of certain branch of research, so authors sometimes got defensive about their contribution, resulting in excessive self-referencing, or left out rival strands of research. Here the editors often wrote long Emails or talked personally the authors about these issues.
Retrospectively, with the review process my most important job began: the surveillance and regulation of (laboratory) practices of academic writing. Coordinating an international project with numerous actors involved is not an easy task. Timelines and plans were set for all the diverse steps of a handbook, from the first draft to the peer review process to the final proof reading. However, deadlines given to contributors were often seen more as a recommendation rather than a fix commitment or obligation. This PhD comic describes the situation quite well: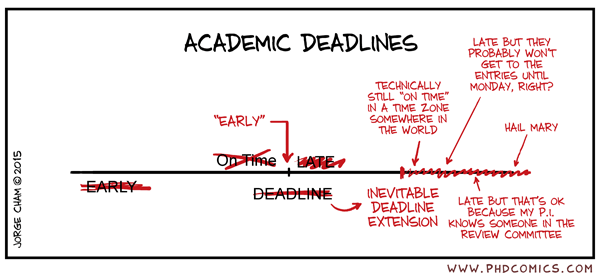 The result: Deadlines passed, but the inbox remained empty. Clearly, if we wanted to stay in time, we needed to reframe our science communication. But how do you get people to do their work? The solution: a tight deadline reminder regime! Consequently, one of the most work and time intense tasks for me was the sheer amount of reminders I had to write and sent out via mail. As in any project, there was a steep learning curve in disciplining our subjects – I mean our colleagues – for us and so early phases (e.g., during peer review) we would only send out reminder Emails after a deadline passed, in later stages we switched to also reminding the authors ahead of a coming deadline. While writing multiple reminders, I also had to learn how to deal with my own inhibitions. How could I be friendly and respectful, but authoritative at the same time when requesting overdue work? Adjusting the tone was especially difficult given my position as a graduate student and doing 'merely' an administrative job telling (often well-known) senior scholars what to do. In most cases, it was enough to switch from "Please get back at us until the [date]" to a more decisive version like: "Due to our tight schedule we manage to deal with any further delays. We do expect to receive the chapter within the next three days. This means Sunday, [date] at the very latest. Thank you for your understanding and collaboration". More frustrating to me than writing endless Emails into a seemingly non-responding void, were a few authors who never responded to me, but only corresponded with the editors exclusively, which often caused more delays. Yet, in general the spamming technique plus the increasingly authoritative language worked surprisingly well. Foucault would have been proud of the way this resulted in self-discipline.
However, even this regime did not prevent bottlenecks sometimes. When the first final versions of the chapters were handed into the typesetting, this was an excellent point to research disasters from an STS perspective as the majority of chapters came at once, leaving us very little time to go through them before an important deadline with MIT Press. In order not to miss this (already extended) deadline, we and some friendly helpers spent around two weeks, going through all chapters, correcting mistakes, and standardizing the bibliography entries as well as bringing back ordering systems that obviously had been dismissed as oppressive by some authors (such as an alphabetic order in the reference list). At this point the Handbook began to age— we were too, including some new grey hairs — and the socio-material constitution of later life of the chapters began to look like an actual book (in pdf form).
A few months later, we got the chapters back for the final proof reading. Once more, we had a number of helpers who helped us going through all chapters again. At this point it became clear that gender and (in)equity in the scientific workforce  also impact us as a field , since we noticed that the majority of our volunteering helpers were female. They contributed in the last re-configurations, the finishing touch of the Handbook and during our main reading session including dinner (thankfully paid for by the lead editor) discussions on the co-production of knowledge and food.
Looking back at the scientometrics of all the intellectual and practical contributions to the STS Handbook:  we had more than 121 authors, around the same amount of reviewers, circa 30 persons involved in the editing and proof reading processes, and over 6000 Emails were sent and received. And this did not even include the many other actors contributing to what the Handbook is now, e.g. typesetters, citation software, managing personnel at the 4S or MIT Press. Thank you all for your time and work, sharing all the moments of joy, despair, frustration, thoughtfulness, and creative engagement. It was a wonderful and valuable experience.
In the end, the handbook was co-produced by a whole community, full of formal and informal work, and every interaction in between. It is not only a representation, but also a materialization of this community and the process of the Handbook's creation showed its messiness, structures, hierarchies, and politics. Now it is out there, so please do what STS does best: Discuss it! De-construct it! Re-construct it! Teach with it! Criticize it! Use it as a pillow while studying!
After all, I claim: One does not need a laboratory to raise a discipline, one just needs to produce a Handbook.
---
Victoria Neumann is currently finishing the Master program 'Science-Society-Technology' at the University of Vienna. Apart from working for the Handbook, she is interested in biomedicine, time, and critical data studies.