By Timo Bühler
Keywords: #science #activism #climatechange
Science and activism – An irrevocable division?
The public discourse about climate change is often dominated with a line of argumentation that states that scientists 'have done their job' by providing the necessary scientific facts and that it is now the turn of politicians to act based on these facts. This division between the creation of facts and the actions following from them – or between science and politics – is a demarcation line that has been drawn deliberately, especially in 'Western' scientific and political cultures. And while this form of 'boundary work' (Gieryn, 1983) must be understood based on its historic legacy, it is by no means something that has to be this way.
The last years have spawned various examples where scientists have been speaking up in public, beyond their own scientific community, asking for a change in political policy and action or even taking actions themselves. To give just two examples: First, there is the initiative to ban 'lethal autonomous weapon systems' globally. This initiative by the Future of Life Institute[1] specifically addresses the public and politicians to inform them about the potential dangers that such weapon systems could bring[2]. The second example concerns the group Scientists for Future[3], that grew in solidarity with the Fridays for Future movement in various countries and has been vocal in calling politicians to action based on their scientific findings.
Both examples don't sound out oft the ordinary from an STS perspective; past research has not only asserted that 'science is politics by other means' (Latour, 1993), but has also analyzed the history and becoming of the idea of an 'objective' science (Daston & Galison, 2021). Likewise, STS has observed how publics have redefined their own role in the process of generating scientific insights (e.g. Epstein, 1996). Despite these detailed descriptions of science-society relations the question how to take action on these issues was rarely posed by STS researchers.
From 'matters of concern' to 'matters of action': The Climate Walk
In the first quarter of 2020, a group of young scholars, including myself, came together facing the necessity to act on climate change. Most of us had been studying in different disciplines for several years, sometimes even more than one discipline – e.g. Development Studies, Ecological Engineering, Environmental Management, Environmental Sciences and Policy, Geography, Informatics, Political Science, Science and Technology Studies, Social and Cultural Anthropology, and Natural Resource Management. Despite the wide range of scientific practices and methods that we had been taught, we were missing a link to concrete action based on this knowledge and wanted to change this. For us, speaking in STS terms, it was about translating the obvious 'matters of concern' (Latour, 2004) to 'matters of action'.
In this initial phase, we, at this time six people, were working hard to put together a first concept for a project that would bridge the supposed dichotomies of nature and culture; science and politics; discussion and action; creation and dissemination. Ultimately, the Climate Walk (www.climatewalk.eu)[4] was born, a project that combines scientific research with educational elements through the use of various media and art formats. The main goal of the project is to engage with Climate Change – meaning its bio-physical dimension – and Changing Climate– meaning the diverse social and political dimensions it encompasses.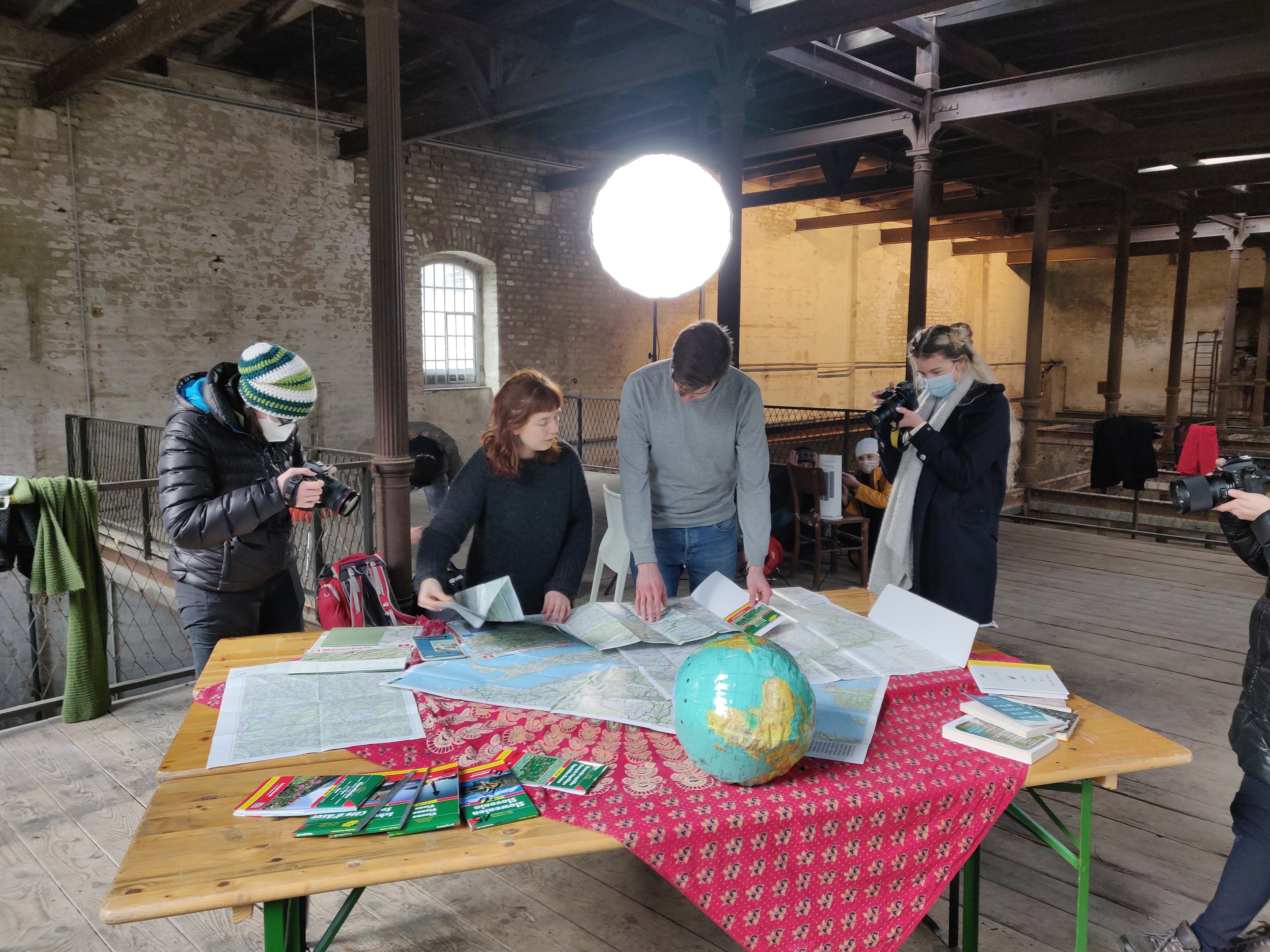 Image from Climate Walk
It is probably not a big surprise that a hike is at the heart of the Climate Walk: 12.000 kilometers through Europe, starting at the North Cape and leading to Cabo da Roca in Portugal over the course of 18 months. To be clear, this hike is not a publicity coup or a cosmetic hook to get people interested. It actually aims to counter the prevalent critique that the scientific community is acting out of a privileged position, that it is often urban and not close enough to the actual events and experiences of people. Hiking through Europe is thus an attempt to overcome, at least to reduce, this gap. Beyond this, walking is a way of getting to know people and landscapes – as a method for transdisciplinary research (Ingold & Vergunst, 2008) – but it also includes an activist message in itself: Other forms of movement and transportation are not only necessary but possible.
Scientific activism and activist science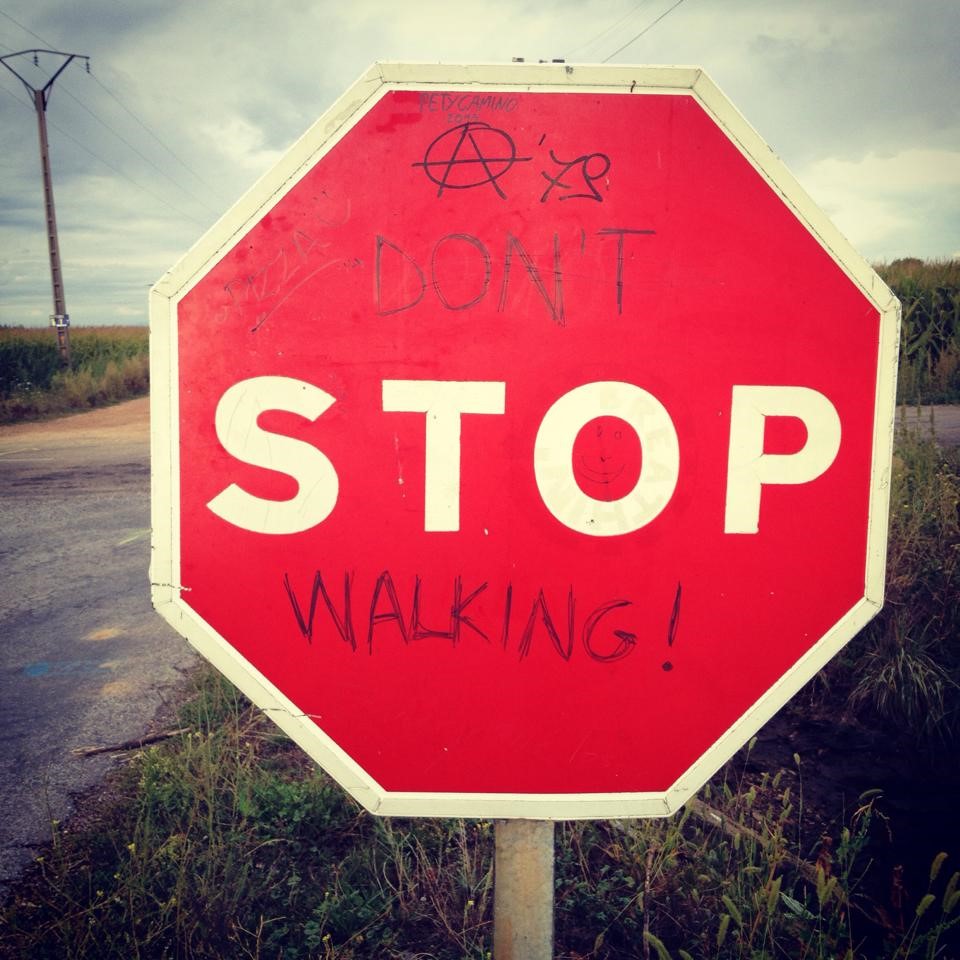 Image by Eva-Maria Holzinger
Overall, we intend to shift attention to the 'unseen places' and the 'unheard voices' and give them a face and voice by means of the Climate Walk – also because we want to dismantle power structures in the existing discourse around climate change. STS discussions have not been quiet about the distribution of power in public discourse. In the context of methodological approaches, the idea that science needs to proactively include underrepresented actors in research and follow a 'strong objectivity' has been put forward, inter alia, by scholars like Sandra Harding (1992). This is exactly what we want to do and achieve with the Climate Walk. The project is thus also an attempt to rethink and to actually redo the role of scientists. We invite everyone – no matter if scientist, activist, educator, artist, or citizen – to get active and hike with us!
The Climate Walk will start on June 5, 2022, and everyone is welcome to join us on this journey for some time. You want to learn more about the Climate Walk?
Watch this short introduction video
---
Footnotes:
[1] https://futureoflife.org/lethal-autonomous-weapons-systems/
[2] https://www.youtube.com/watch?v=HipTO_7mUOw
[3] https://scientists4future.org/
---
References:
Daston, L., & Galison, P. (2021). Objectivity. Princeton University Press.
Epstein, S. (1996). Impure science: AIDS, activism, and the politics of knowledge (Vol. 7). University of California Press.
Gieryn, T. F. (1983). Boundary-work and the demarcation of science from non-science: Strains and interests in professional ideologies of scientists. American Sociological Review, 781-795.
Harding, S. (1992). Rethinking standpoint epistemology: What is" strong objectivity?". The Centennial Review, 36(3), 437-470.
Ingold, T., & Vergunst, J. L. (Eds.). (2008). Ways of walking: Ethnography and practice on foot. Ashgate Publishing, Ltd.
Latour, B. (1993). The pasteurization of France. Harvard University Press.
Latour, B. (2004). Why has critique run out of steam? From matters of fact to matters of concern. Critical inquiry, 30(2), 225-248.
---
Timo Bühler is a Master student and researcher in the ICU4Covid project at our department engaging with the relation of digital technologies, social norms and values. He has been part of the Climate Walk team for the past year, working on the preparation of this pan-European science, education, and media-art project.